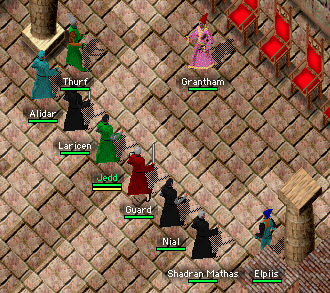 Helda Grantham is a Senator of Andris, elected in the Year 438 alongside Senators Ellychas and Janik. Though she has an energetic personality, Grantham's style of governing is forceful at best, and draconian at worst. These tendencies have often put her at odds with her colleagues.
Grantham was the first of the candidates to be cleared by the Andrisian Standards Committee in the Election of 438. A large part of her campaigning platform was a promise to build a port for Andris, and it was indeed her later actions as Senator that led to the creation of Morganstown. Grantham also desired to see the guard strengthened, and taxes on business lowered.
Grantham is somewhat of an idealogical opposite of Senator Janik, whom she resents. The plain-spoken Grantham is often quite vocal with her criticism of the senator. Grantham has also gotten into quarrels with Senator Ellychas, owing to her lack of support for the working class.
What's all this nonsense about uniting workers?
"
"
Grantham is married to a spice merchant who is often away on business. She is a self-styled housewife, and has brought up two children in Andris.
With the advent of the Black Shadow Assassinations in 441-442, Grantham presumably went into hiding along with the rest of the city's leaders. But at some point, she made her return, and as of 448 continues to be an active presence within the city.
Community content is available under
CC-BY-SA
unless otherwise noted.