Halforth was an honourable Pirate Privateer until during the Retaking of Mirith the Royal Sceptre identified him as N'eroth, heir to the throne. Although he seemed rather surprised by that turn of events, it is known that his own words many moons earlier were "even a Privateer could be King."
He first appeared in the year 438, fond of drinking and asking travellers to join his crew, naming  Captain Jass as his Pirate Mentor. Some are known to have followed such as Razan and Luciella.
Later he started to appear in company of a female wizard, equally fond of drinking: Istra Falvo. His powers by that time started to catch attention of travellers, as they were unusually broad-ranged, which later could be traced back to his upbringing by the Centaurs and their influence on him.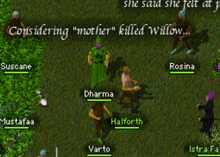 Halforth has now changed his name back to N'eroth and resides in the Mirith Castle, although he can be seen in the Pub by occasion.
Community content is available under
CC-BY-SA
unless otherwise noted.