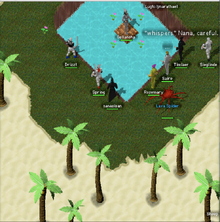 Gellansha is a Mhara Prophet, who has a vast knowledge and calls herself the ancestral spirit of her people.
To be given a prophecy by her, one has to pass three tests: First, a test of knowledge, second, a test of wisdom and thirdly a test of courage.
There is only one prophecy known by Gellansha, spoken at Medius Island, and transmitted by the wizard Timlaer :
Flame and fire, scorched and mired... 
A single tear, blue, silent and clear... 
To the peak it falls, through the dark She crawls... 
In her hand glows, fear in Black grows... 
One child survives, another child dies... 
Small hands revive, the Power comes alive. 
Keep these words, brave ones!

The meaning of this prophecy would become clear during the Lancaster Wars in 426. The words revealed that one of Elara's descendants still lived: Serene. It further revealed that Serene would have the power to use the Curio, a fact which would soon be abused by the treacherous Senator Lancaster.
After that war, there were no reports involving Gellansha for many years. That changed during the Fighting Moon of 448, when a note was found at a privateer camp referring to "the Gellansha". As it turned out, it was the name of Istra Falvo's pirate boat, possibly an homage to her friend's N'eroth's new family.
Community content is available under
CC-BY-SA
unless otherwise noted.