Galandir, according to some historians, the fourth of his name, was the King of Mirith until the Blue Moon of 438 .
As any other King, Galandir was a controversial figure. Hated by some, loved by others, his rule has lasted from at least the year of 425 (no records prior to that date), and his story is intertwined with most events in the modern history of Oberin, even if he has reminded away from the public for several years.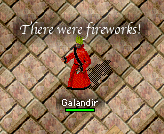 Since the beheading of his sister Tirana in 431, the King's mental and physical health deteriorated. His last appearances in public revealed a man living in a world of dreams and longing for parties with fireworks. Unlike King Austin, Galandir did not leave a large family behind. After the betrayal of his sister, his only heir is the Prince N'eroth, who is currently being educated by the Centaurs. However, the Prince will not be able to ascend to the throne until the Royal Sceptre is restored.
Father Nafets tried his best to find a spell that would cure Galandir and bring back his former abilities. During Galandir's last years, Vicereine Ciddia Tigg was in charge of the day-to-day affairs of Mirith.
King Galandir was killed by Tirana and the Twins, when they took over Mirith in the Blue Moon of 438.
Community content is available under
CC-BY-SA
unless otherwise noted.