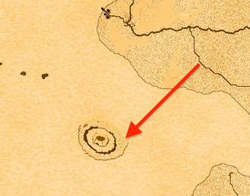 The
Atoll
is a coral reef formation situated roughly north-west of Mirith. It is surrounded by a huge rock formation with almost no land to step on. There is one entrance at the southern end of this formation. The entrance is directly northwest of
Mirith
Cemetery
, Vincent Island, or
Serpent's Pledge
Guild Hall.
Within the island, there is a lagoon that surrouds a new Volcano. The entrance of the island reads 407 North, 570 West from Mirith Bank. The island has a temple as well as a stable situated next to a small, vacant house that once housed the painter  Rittah.
The path directly North West from Vincent Island to the entrance of the Atoll has several
Sea Serpents
. For a safer journey, one could travel along the Mirith coastline, heading due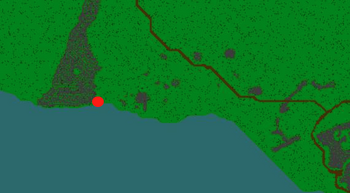 west upon reaching the first gigantic rock formation (see maps).
As of right now, the volcano is inaccessible, unlike the Lerilin Volcano.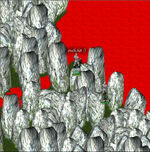 There is an omnipresent copmany of Sea Serpents and
Sharks
surrounding the Atoll. On the island itself, one finds
Giant Rats
, quite a number of
Brackens
, as well as
Gapers
. The lagoon has many Sea Serpents, Sharks, and
Water Elementals
.
One should be careful as Gapers might teleport a robe into the lagoon.
On Blue Moon, Year 439, Day 1,
Larzz
and
Dino
discovered a large
Island
that would come to be known as the Atoll,
while navigating southwest of the
Ice Dungeon
.
On Day 59 of that same moon, two Knights of Silver accompanied Jedd to the island. There, they were attacked by an ice dragon claiming that the days of men plundering their wealth were over.